Hello my friends and readers, I hope everything is fine and the projects in full swing. Do not forget to always practice simple points even more complex even knowing already, as it is always important to train to perfect yourself and make the points better and better. It is with practice that you can make new patterns. From a simple square to a large quilt we must always train and perfect ourselves in this wonderful crochet world that never ends, on the contrary, it is an area of ​​craftsmanship that is always growing and appearing new points, patterns, ways of doing finally. Everything is useful, any information received most.
My grandmother always liked crochet pieces and that was for me too, because I love crochet pieces, to learn and to know more every day, because croche is always innovating and appearing new patterns. Formerly the corchet was appreciated only by older people, but today it has changed, there are people of various age groups doing crochet, because it has many benefits like improving the memory, improving the motor coordination and distracts the head being a great antidepressant. It is a simple and fast pattern.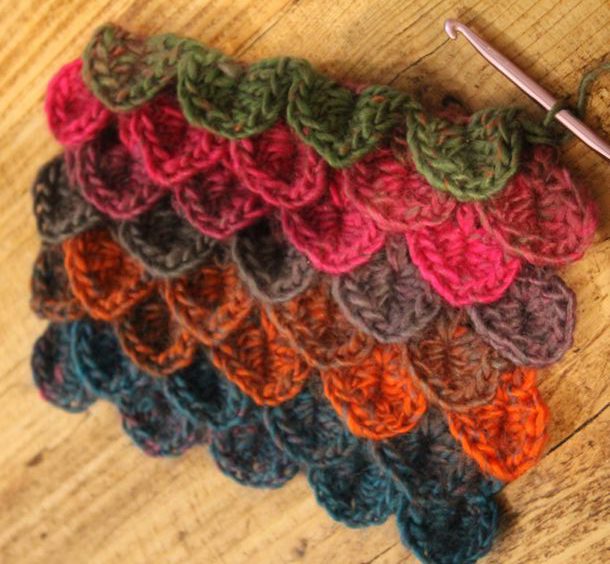 The pattern I bring to you today as a novelty is the Crochet Crocodile Stitch, this pattern is very beautiful and elegant, has a unique texture with a gradient resembling scales, speak that looks like the skin of a crocodile, so the name. It is a pattern that is very common to find in shawls, baby blankets and long gloves. It is level between beginner and intermediate so it is not very difficult to do, enjoy and do beautiful work with this pattern.
What To Do
One can make a beautiful shawl, long sleeves stands elegant, baby paara blanket or even a blanket for your sofa thus giving a special touch to your environment. A new piece always totally changes the environment, even more if it is strong colors leave more cheerful, light colors and baby leaves the environment calmer and is great for baby room and mannta for them, finally each change of a different touch. Choose your preferred color or depending on the environment and also depends on what you will do, of the part that will do so changes the way you design this pattern. But you can be sure that you will love.
Abbreviations
ch = chain
ss  = slip stitch
dc = double crochet (which would be a treble in UK crochet terms)
sk = skip
st/sts = stitch/stitches
Crochet stitch is a pattern that is great for styling your look, having a sleek and modern look, from a shawl, a purse or even a square. If you liked then watch the video below and learn with the tutorial, do it and follow it and come back as many times as you want or you have doubt. I also leave a link with the pattern written with the step by step to all of you with the site that I found.
To always be linked to all patterns, follow our page on facebook Crochet & Knitting Free Patterns and our Crochet Lovers ✂ Group. We give weekly tips with Free Padroes. I see you there.
Pattern Written ➜ Crochet Crocodile Stitch