25 Inspirations of Crochet Centerpieces
The crochet centerpiece is a tradition all over the world, especially at Christmas. This is because it was already used to decorate our homes and also for our grandmothers, and even great-grandmothers, and it still remains very dear today.
It is a fact that anyone who has the habit of using crochet crafts in the decoration is a very capricious person with the home, isn't it? So, for you to know how to rock the decor, we will present many tips on this incredible piece.
For you to make no mistake in choosing the crochet centerpiece, we have prepared a guide with 3 basic tips to help you in this task. In addition, we have listed 30 photos of beautiful projects to inspire you. Finally, you will learn, through a video step by step, how to make a beautiful table cloth with the pineapple stitch.
3 Tips for Choosing a Crochet Centerpiece
There are countless types of crochet centerpieces, one more beautiful than the other. So, deciding between them is not an easy task, is it?
So that there are no more doubts, we have listed 3 tips that will help you, and a lot, in this hard decision. From these tips, you will know which crochet centerpiece best suits your home. In addition, you already make this type of piece, you will be able to advise your customers with greater conviction about which project is ideal for their home.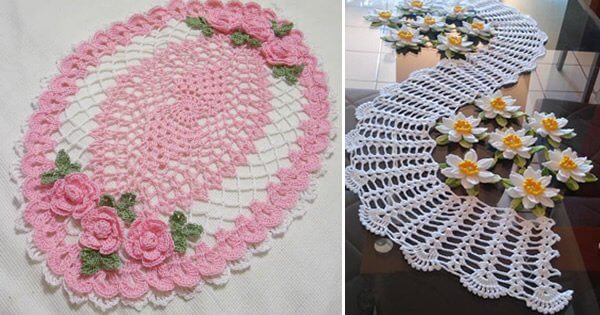 Tip 1: Choose a format
There are several formats of crochet centerpieces. Among them, the main ones are round, oval, square and rectangular. In addition to these basic shapes, there are also these table cloths in very different formats, such as flower and spiral shapes.
Basically, the choice of the shape of the crochet centerpiece will depend on the table or even on the person's taste. See the tips below.
Round centerpieces
Round table centers are commonly used on round tables. But there are also those who use them on rectangular or square tables as well.
Oval centerpieces
Oval table centers go well on both round and rectangular tables. On the square tables, more attention should be paid. This is because this towel format can be very large on the square table, at the risk of becoming disproportionate.
Square centerpieces
Square table centers are more symmetrical on tables also in square format. In addition, they are super elegant on rectangular tables, especially when used inverted, forming a rhombus.
Flower-shaped centerpieces
For those who love flowers, nothing better than a graceful centerpiece in this format.
Table runners
A variation of table centers are table runners. Because they are more extensive, going from one side of the table to the other, they give the impression that the table is bigger than it really is. Therefore, they are ideal for decorating the entire length of the rectangular tables, especially on special lunch and dinner days.
Tip 2: Set the size
As it is a table centerpiece, as the name implies, it should stand out in the central part of the furniture. Therefore, the centerpiece must be proportional to the size of the table to be decorated. That is, it should not be too big or too small on the table.
Tip 3: Select colors
The choice of colors is something very personal. There are colors that match the decor of the environment as a whole. Just as there are those who use other criteria, such as the preferred color, or even a very beautiful crochet thread that you have saved.
With these three steps for the production of the crochet centerpiece well defined, it's time to put the ideas into practice. To better visualize your choices, check out several table center ideas in different shapes, sizes and colors below.
25 Inspirations of Crochet Centerpieces
See now 30 photos of beautiful crochet centerpieces that will inspire you in your creations.
Oval crochet centerpiece
1. Wired centerpiece and pink flowers
2. Yellow crochet centerpiece
3. White wire centerpiece
4. Centerpiece with white thread and red flower in the center
5. Centerpiece with raw string (and details with silver glitter string)
Round crochet centerpiece
6. White centerpiece with flower and mixed wire border
7. Centerpiece with purple thread
8. Mandala-shaped centerpiece
9. Center table with black and white thread, flowers and foliage
10. Round centerpiece with white thread
11. Round centerpiece with light blue thread
12. Crochet centerpiece mixed in lilac
Square crochet centerpiece
13. Square centerpiece with white thread
14. Square centerpiece with light green thread
15. Square centerpiece with red accents
Rectangular crochet centerpiece
16. Rectangular centerpiece with pouting and flowers
17. Rectangular centerpiece with crochet flower appliqués
18. Blue rectangular centerpiece
19. White rectangular crochet centerpiece
20. Square centerpiece with grapes and grape leaves
Flower-shaped crochet centerpiece
21. Salmon flower centerpiece
22. White flower-shaped centerpiece
23. Flower centerpiece with gray thread
24. White centerpiece with foliage and flowers
Crochet table runner
25. Curved table runner with daisies