Kite Flight Quilt, a very colorful and stylish quilt to match your decor and still make everything beautiful and cheerful. The quilt as it is called is an incredible craftsmanship in which we work with sewing and simple and printed fabric pieces, these works have beautiful results that will amaze you.
The quilt is well known and is widely used today. It can provide incredible results, you'll love the pieces you'll be able to make with the quilt, believe me.
It is a very old craft, but still very used that has been innovating a lot, always with increasingly better and stylish pieces for you, with just a needle, thread and some pieces or nieces of fabric you can make amazing pieces to give that up to the decor and still sell, I'm sure you'll love it.
⇨ SEE ALSO FREE PATTERN RAINBOW BARGELLO JELLY ROLL QUILT
Kite Flight Quilt, the result of a stylish work, the quilt is a technique used by many artisans for its practicality and for the incredible final result that always enchants everyone and provides pieces that leave everyone's jaw dropping with its result. The colors of your quilt will depend on you.
Let your creativity guide you when it comes to executing this beautiful project. You will certainly be very good at choosing your fabrics and colors, we always recommend that you wash the fabrics before starting the project, that way you will be able to handle them better when it comes to execution.
Don't get scared at first, read the tutorial calmly and have faith, you'll manage to make a beautiful project and in the end your finished quilt will be the envy of anyone who sees it. We are sure of it!
Maybe you will like these options:
➽ Midnight Garden Quilt
➽ Rainbow Bargello Jelly Roll Quilt
➽ HeartStrings Quilt
Kite Flight Quilt
⇨ SEE ALSO FREE PATTERN RAINBOW BARGELLO JELLY ROLL QUILT
Full Pattern/Tutorial/Images: Robert Kaufman
Supplies Needed:
Skinny Strip
Friendly!
1 Kona Classic Skinny Strips
1 Kona White Skinny Strips
45"x60" Crib-sized Batting
1 ½ yards Backing fabric
½ yard Binding fabric
1 sheet (at least 5.5"x 5.5")
heavy duty template plastic
OR 45º triangle ruler
Some notes about this pattern before you start:
In this quilt pattern, you will learn how to piece blocks on the bias. It can be a little tricky at
first, but is a neat way to do something new. Just remember to pin, pin, pin!
This pattern utilizes all of the skinny strips, which means it has little waste. It also means you
have to be extra-careful when cutting your blocks. We recommend that you read over all of
the instructions before making your first cut!
All seam allowances are ¼" and all seams are pressed open.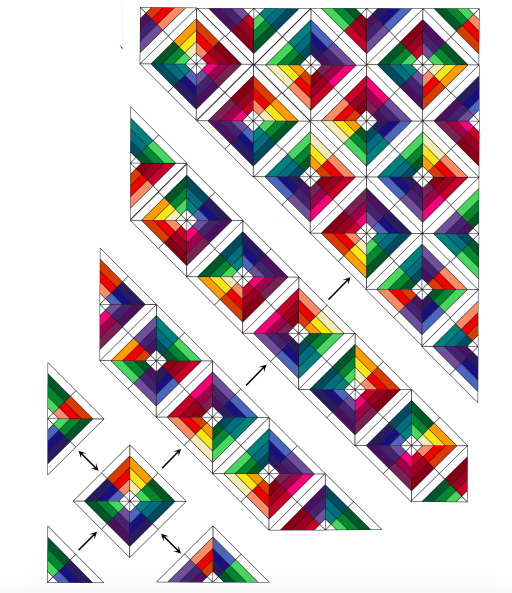 Our Team's Opinion About This Pattern
Kite Flight Quilt, this piece is amazing and can be what you need to change your decor!! I'm sure you're gonna love this piece, it has a beautiful design and a stylish result that'll leave you amazed.
This amazing piece will help you give your house a look that you'll love and that will amaze you. This will surely make your customers want one like it, which will help you in sales!!
Want to make this amazing Kite Flight Quilt? Then set aside all your material and tools before starting your piece so that you already have everything close at hand, this way it'll be easy to carry out this project, follow thetutorial carefully, make your piece while following the tutorial and I' m sure that you will be able to make this amazing work easily.