Pinwheel Variation Quilt Block
Pinwheel Variation Quilt Block, an amazing and stylish block with a different twist that can be used in your works, such as quilts, bags and more. This type of work always draws attention and in the most diverse types of drawings it has been a great success nowadays.
This is a quilt block that can be made easily and that, when joined with others, gives a very beautiful and stylish result in several pieces. This type of work is highly valued because it requires dedication and patience when making the pieces.
This recipe is simple and has a very nice result from the block we brought. It's worth investing in pieces like this to compose your products for sale as they add style to them. These pieces with colorful and delicate details draw attention for their style and their incredible design. The quilts made of blocks are increasingly calling attention for their beauty and making a great success in craft sales nowadays.
👉 ACCESS THE SPIN TABLE RUNNER PATTERN
It can seem difficult when looking at work, we know that. But, with dedication, you will be able to create beautiful pieces using this technique that so many love and use today. Thank you for visiting our website. We always try to bring you the best. Beautiful block to be used in your work!!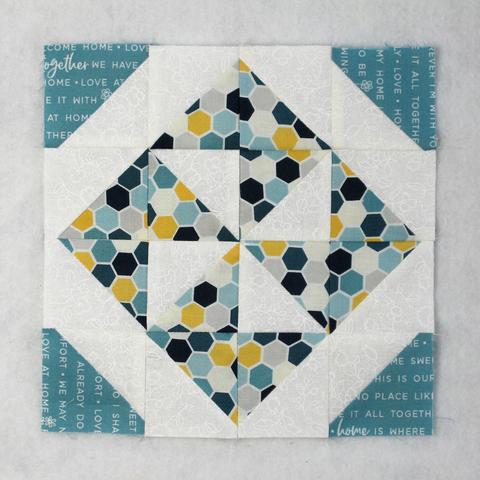 See Also:
➽ Tumbling Jewels Quilt
➽ Terrarium Quilt
➽ Simply Strippy Quilt
Pinwheel Variation Quilt Block
👉 ACCESS THE SPIN TABLE RUNNER PATTERN
Full Pattern/Images/Tutorial: Fabric406
Fabric Requirements for an 8″ Finished Pinwheel Quilt Block:
Light/White: 8 – 3″ squares
Medium/Hexie Print: 6 – 3″ squares
Dark/Aqua: 2 – 3″ squares
Sewing Directions:
Half Square Triangle Units:
Step 1:
Using all of the fabric 3″ squares, sew together 16 Half Square Triangle units as shown in the picture below.
Putting It All Together:
Step 2:
Lay out all the Step 1 Half Square Triangles as shown below.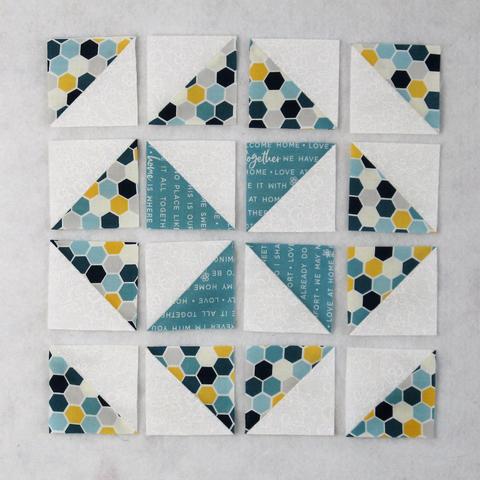 Our Team's Opinion About This Pattern
Pinwheel Variation Quilt Block, if you want to improve and make new beautiful quilt pices use this quilt block on your works!! You can use it combined with other blocks to create new stunning pieces. This amazing block is very stylish and easy to do, the colors can be changed if you want to match the decor, this will surely make your customers want one like it, which will help you in sales!!
Want to make this amazing Pinwheel Variation Quilt Block? Then set aside all your material and tools before starting your piece so that you already have everything close at hand, this way it'll be easy to carry out this project, follow the tutorial carefully, make your piece while following the tutorial and I' m sure that you will be able to make this amazing work easily.