Crochet Sandals with Flip Flop Soles
Crafts allow us to have unique and super special pieces. Crochet, in on the rise and has established itself as a favorite of fashion professionals!
Craftwork has been a major trend for a few seasons now. Following the international fashion shows and launches, we can see that this trend remains strong and have renewed breath appearing in the most diverse items. This trend will remain strong in many items such as knitting blouses, crochet for sale, crochet bags, crochet dress, crochet skirts, crochet decorations and even crochet mask.
This craft brings references from the 70s, ethnic, peasant and gypsy. This confirms the DIY and customize fashion, as well as handicrafts of the most varied types, which will have their guaranteed space in collections and looks. Crochet sandals are great options, both for staying at home, with the legs up in comfort, or for walking around, this wave is just beginning.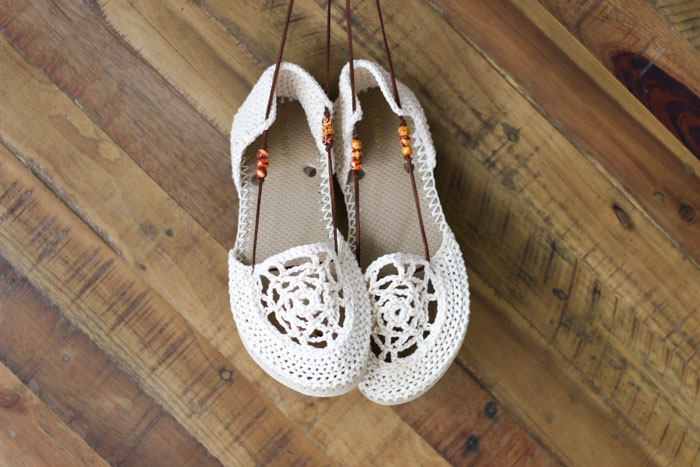 New Fashion – Crochet Sandals
Crochet sandals are nothing new and are among grandma's classics, when it comes to those cute creatures, the little babies. But now, we're talking about the big ones, who also promise to be enchanted by this novelty.
Whether for those who have mastered the art of crochet or beginners, the models in this article certainly promise to conquer. That's because the sandals have patterns from the easiest to the most advanced and creative versions. After all, for all tastes, pockets and abilities, the crochet sandals can become part of the closet. By the way, it is also a nice alternative to sell, especially the slipper-style models. As we stay more at home, the search for comfort becomes paramount.
In addition to the crochet accessory to use with flats, another excellent idea is to transform the flip flops into a base for the crochet sandal. To make this pretty crochet sandals you're only going to need a pair of flip flops, less than a skein of yarn an a few hours. You can use the most varied types of lines and color combinations.
Crochet pieces are so comfortable that there is no secret to using them: they are suitable for all audiences, including children. How about taking advantage of Christmas coming and giving your friend this beautiful craft? See the patterns we've separated for you!