Divine Crochet Angel – Free Pattern
Hi my loves! We hope you are well and excited to learn yet another beautiful craft pattern. It's very gratifying to know that you like to come here to have access to beautiful patterns and that's why we always want to offer you the most beautiful craft ideas. We are very happy to see you here. Today couldn't be different, let's learn another beautiful crochet pattern, the Divine Crochet Angel.
This angel is an amigurumi, a crochet technique that makes beautiful models of animals, angels, flowers, one pattern is more beautiful than the other. Angels have this delicate touch, they convey an image of peace and understanding. It is perfect for special dates like Christmas and is often used to decorate tables.
It can also be used in the decoration of the children's room, if this is the theme of the decoration or the layette, it is perfect. The most common colors for making angels is white, but you can do it with other colors that you prefer. A light blue, light pink, yellow angel will be a charm. If you've never crocheted, despite not being a difficult pattern, we recommend you start with an easier piece.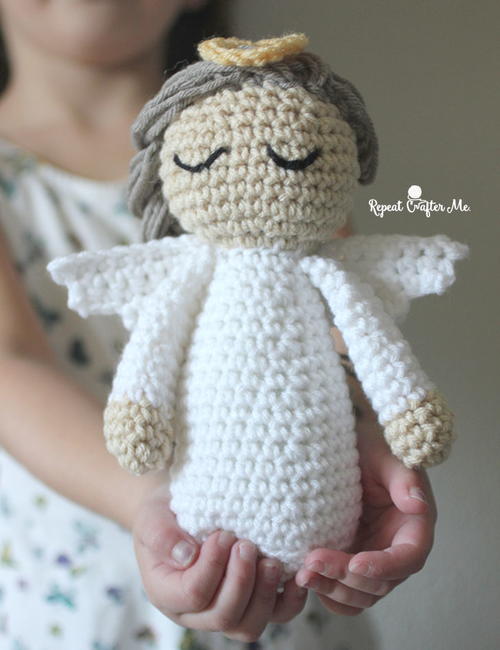 Image / Pattern / Tutorial: All Free Crochet
Read the entire pattern and understand the stitches. Test the stitches on a piece of yarn and if you are confident and understand what you need, go for it. Anything break up, go back one row and keep going. We are sure you will be able to make beautiful angels. Choose lines that are a little firmer. Many craft stores have yarns suitable for making amigurumis, ask for a suggestion and if you like, use these yarns.
The divine crochet angel pattern is available in All Free Crochet. Size, yarns suggestion, step by step and material list are also available. Take the opportunity to make one more and gift a dear friend. It's a great opportunity to promote your work, start offering and guarantee that extra income at the end of the month. We hope this pattern inspires you to keep crocheting and making this lovely craft. All ready to start? Let's crochet!