d'Histoire Naturelle Scheepjes – Crochet Pattern
Hello my loves! Let's start another beautiful week, with lots of art and amazing patterns. We hope you were able to enjoy the weekend, rest and restore all your energy close to the people you love. Today we're going to start with a beautiful crochet blanket, the d'Histoire Naturelle Scheepjes CAL 2020. You've asked for this pattern a few times and we couldn't help but fulfill that request.
It is one of the most beautiful blankets you will find. The pattern mixes different stitches, textures and shapes, forming a unique blanket. The color combination is very beautiful, it matches several different environments. You'll find a color palette to follow, get inspired to make this pattern. We remind you again that the colors and yarns are just suggestions, you can use the ones you like the most.
This pattern looks very beautiful when we mix different colors, it brings more emphasis to the design. You can do everything with the same yarn color if you want a more discreet piece, the result will be very beautiful too, but the emphasis on the different points will not be the same. Crochet blankets are charming in any environment they are.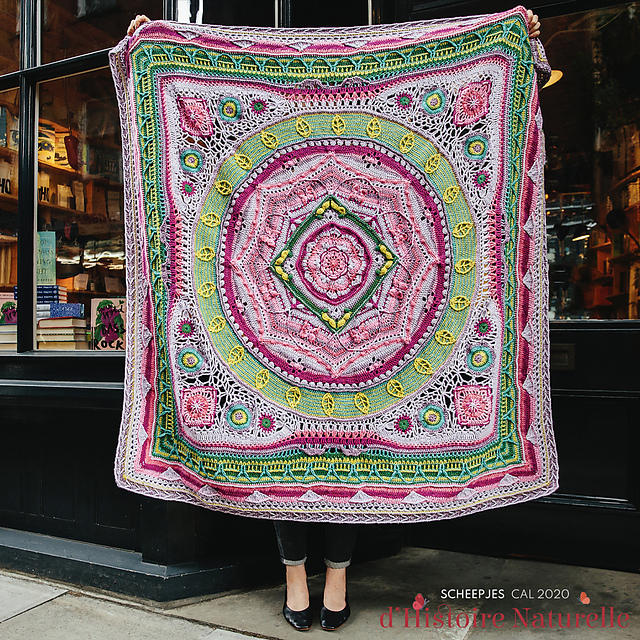 Image / Pattern / Tutorial: Ravelry
The most common use is in the decoration of beds, after all, no one can resist a well-made bed. They look beautiful and are also widely used in living rooms, to decorate the sofa or armchairs. In open environments, in addition to being a decoration item, they are perfect for snuggling up at the end of the day, reading a book or listening to music. If you have crocheted as an extra income or profession, these blankets sell quickly.
They are unique, beautiful and full of enchantment pieces. In addition to decorating your home, you can make it as a gift for a dear friend. We are sure they will love it. The d'Histoire Naturelle Scheepjes CAL 2020 pattern is available on Ravelry. We hope you enjoy it and make many blankets out there, tell us here in the comments how it was and what you think. Let's have a beautiful week together, with lots of crafts, color and joy!