Snuggle Up Blanket – Crochet Pattern
Hello my loves! It's always a pleasure to welcome you here, so that we can learn one more beautiful model of manual crafts together. Always remember that our work is very beautiful and valuable. Be proud of every piece you can make, because your time and affection was dedicated to having this beautiful piece.
Today's pattern is a beautiful blanket, which you can use on many occasions, the Snuggle Up. As the name implies, it is a perfect blanket for snuggling, soft and warm. Whether to make our bed tidy, to decorate our living room or some other room. As with other patterns, choose the yarns and colors that suit you best. You can combine them with the decor of the environment.
This pattern, made in rows, mixes several colors. If you already have yarns left over from other projects, see if you have the necessary amount and use them. So you can enjoy these pieces, save, and in the end, still have a very beautiful piece. Have you ever thought about making this pattern to complete the baby trousseau? It is perfect in the colors that are being used in the decoration of the little one's room, in pastel tones.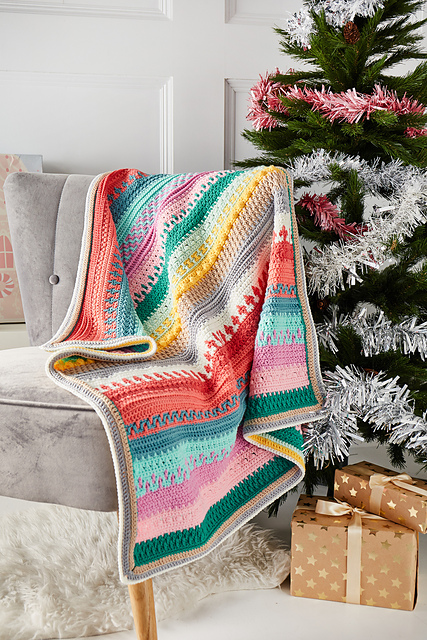 Image / Pattern / Tutorial: Ravelry
Not to mention that it can be the perfect gift for dear friends and family. In the pattern you will find yarn suggestions, but choose the ones you like the most. Also, step by step, list of materials needed, and different sizes of blankets. Tips for learning how to adapt the sizes are also available, so you can make them according to the size of your bed.
The snuggle up pattern is available on Ravelry. We hope that the photos will inspire you to create new pieces and color combinations. Unleash your imagination and make beautiful handcrafts. Don't forget to tell us what you think and remember that our experiences encourage other artisans.