Lazy Days Cat And Bird Quilt Pattern
This Lazy Days Cat and Bird Quilt is very well explained. The colors of your quilt will depend on your taste. Choose your fabric according to the decor of the room you want to put it on. Very practical this type of quilt always makes the house well prepared to receive your visits. It is an excellent option for sales because it is a different piece and requires time to be made, but in the end will give you a beautiful result.For sure when it comes to doing your job.
You often have many doubts about how the best way to do a perfect job is. But with love, gentleness and patience it is possible to do amazingly sensational work.
It is the kind of work that, although relatively easy, may require a little more patience when composing the piece, so you'll need to be patient to do this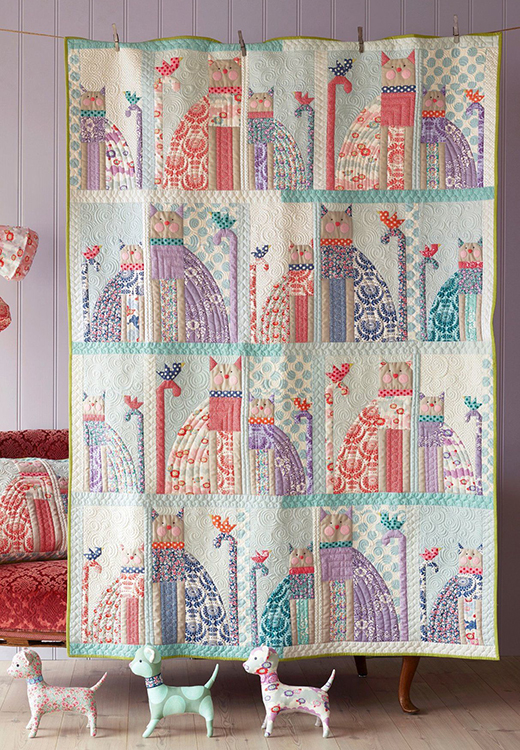 Below, we shared the materials you'll need:
• Fabric 1: ¾yd (75cm) – Pen Stripe light blue (130032)
• Fabric 2: ⅜yd (40cm) – Frances pink (100165)
• Fabric 3: ⅜yd (40cm) – Phoebe ginger (100162)
• Fabric 4: ¼yd (25cm) – Trickles coral (130049)
• Fabric 5: ⅛yd (15cm) – Medium Dots salmon (130028)
• Fabric 6: ¾yd (75cm) – Paint Dots light blue (130035)
• Fabric 7: ⅛yd (15cm) – Medium Dots night blue (130026)
• Fabric 8: ½yd (50cm) – Dottie Dots light blue (130044)
• Fabric 9: ⅜yd (40cm) – Eleanore lilac (100166)
• Fabric 10: ¼yd (25cm) – Mildred lilac (100170)
• Fabric 11: ¼yd (25cm) – Trickles lilac (130053)
• Fabric 12: ⅛yd (15cm) – Medium Dots dark teal (130030)
• Fabric 13: ¼yd (25cm) – Phoebe blue (100175)
• Fabric 14: 10in (25.4cm) square – Trickles blue (130051)
• Fabric 15: ⅜yd (40cm) – Josephine blue (100174)
• Fabric 16: ⅛yd (15cm) – Medium Dots ginger (130007)
• Fabric 17: ⅝yd (60cm) – Tiny Star light blue (130038)
• Fabric 18: 10in (25.4cm) – Frances lilac (100168)
• Fabric 19: ⅝yd (60cm) – Crisscross light blue (130041)
• Fabric 20: ⅛yd (15cm) – Phoebe thistle (100169)
• Fabric 21: ¼yd (25cm) – Josephine emerald (100167)
• Fabric 22: 6in (15.2cm) square – Frances blue (100171)
• Fabric 23: 10in (25.4cm) square – Mildred ginger (100163)
• Fabric 24: ⅛yd (15cm) – Eleanore coral (100164)
• Fabric 25: 10in (25.4cm) square – Phoebe emerald (100178)
• Fabric 26: 6in (15.2cm) square – Eleanore teal (100176)
• Fabric 27: ¼yd (25cm) – Tiny Dots light blue (130047) – not suitable for a fat quarter
• Fabric 28: ⅜yd (40cm) – Trickles teal (130050)
• Fabric 29: ⅝yd (60cm) – Solid warm sand (120002)
• Fabric 30: 10in (25.4cm) square – Solid dusty rose (120009)
• Fabric 31: 10in (25.4cm) square – Solid salmon (120027)
• Fabric 32: 6in (15.2cm) square – Solid pale yellow (120022)
• Backing fabric 3½yd (3.2m)
• Wadding (batting) 61in x 82in (155cm x 208cm)
• Binding fabric ½yd (50cm) – Solid lime green (120028)
• Black embroidery cotton (floss) for embroidering eyes
• Thick card and thick paper for patterns
• Fabric glue for paper piece appliqué
• Piecing and quilting threads
That's All You'll Need To Do This Beautiful Quilt, And Of Course, The PDF In This Post. PDF PROVIDED BY: TILDAS WORLD
Hey, Go Check This Quilting Tips Book On AMAZON: Quilt As-You-Go Made Modern: Fresh Techniques for Busy Quilters