Good morning, everyone … How are your projects? The preparations for Christmas have already begun .. I am very excited because this date is one of the most loved of the year, because I have gathered all the family, friends and we have a beautiful supper, we exchange presents, conversations, magical Christmas. The famous Christmas cap is part of the typical clothing worn by Santa. Santa was born in the United States where he was raised by Thomas Nast in the year 1892. The clothing was slightly different from what is known today, the clothes before were brown and also used green at times. Many today think that who added the color red in Santa's clothing was by Haddon Sundblom, during a job for the Coca-Cola Company in the year 1931, but it was not so and was confirmed by Coca-Cola itself that attributed the decision of the a red color known worldwide to the creator of the first, Thomas Nast.
Many know that I am making my home decor to make the house cozy, familiar, cheerful and clear decorate my beautiful Christmas tree with ornaments made by me is also beautiful, and we can not forget the gifts of course. And I was wondering what to do for the kids on Christmas night and surfing the internet I saw several models of Santa's cap and found it interesting. There are caps made with different points and different sizes as well. And I chose this one to share with you the pattern for people who want a hint of what to do Christmas for the girls and boys to wear. If you also liked this idea just keep reading and good work.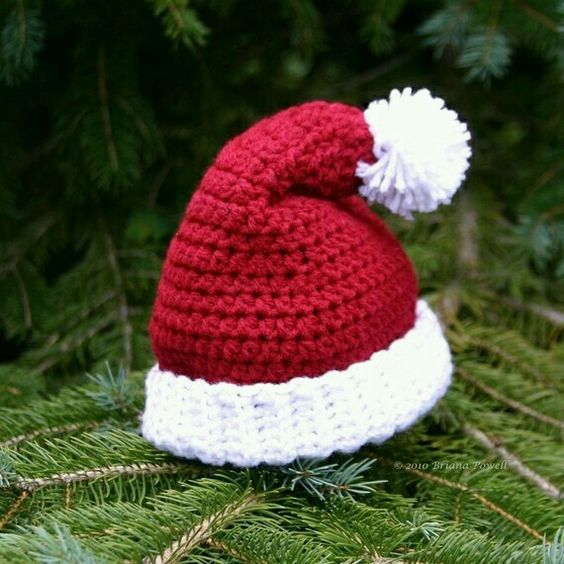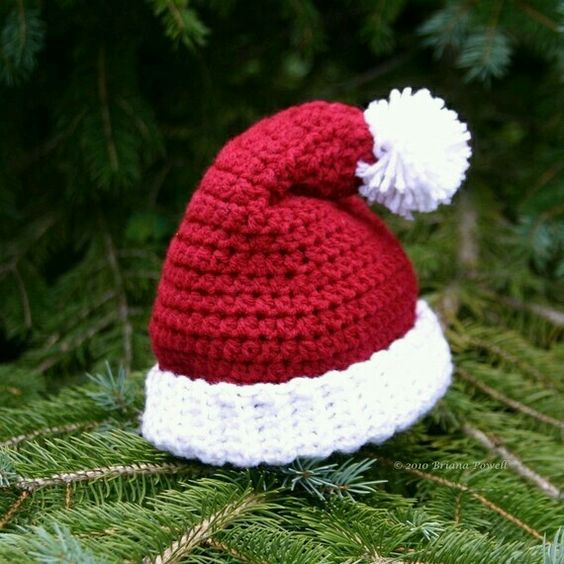 Last year I did not make my decoration for not having time but this year I want to do everything, taking advantage of the pattern that is easy and quick to make to enjoy more time that has to do more things, because it is so beautiful when you see a decoration made by yourself in addition to receiving praise for this beauty.  This would be a lovely hat to wear when passing this date and give as a gift to family and all friends on Christmas Eve!
This santa hat crochet pattern is so cute and easy to do that it can do in 1 day. I love it so much, to make pieces for decoration that I spend hours doing! Put a little ho-ho-ho to your home with a free Crochet Santa Hat pattern! In addition, this pattern not only can be used on the head but also can be used on the chairs, the top of the tree, the fireplace where you think it looks best and your taste.
Size
Hat Circumference: 12 (14) inches. Instructions are given first for the smaller size, past the largest size being in parentheses.
The hat adheres to the shape of the head because it is made of cloth. The size is adjustable, to change it is just to change the size of the hooks and to tinker in the lines of the points adding or decreasing.
Materials
Wires
1 ball Bernat Baby Blanket in shade 3005 White, or about 30 (40) meters of yarn of your choice;
1 ball Caron Simply Soft in the shade 9729 Red, or about 60 (70) meters of medium weight yarn you prefer;
Hooks
1 set of size 11 US – (8mm) needles with double or long tips of circular format for magic loop;
1 set size 8 US – (5mm) double-pointed needles or long circular shape for magic loop;
Scissors, tape measure.
I hope you like this pattern and be as merry as I am. Below is the link with the step by step and also a video tutorial with the information getting better to accompany and make this beautiful Santa Hat. Send us your result, we will be happy. Good work and up to the next pattern.
Follow our facebook page on Crochet & Knitting Free Patterns and our CROCHET LOVERS✂. We give weekly tips with Free pattern. I see you there.
Pattern Step by Step Hat Santa Crochet